Hotel SaaS HotelSilverlight, Business Advantage


Hotel management system is not an investment to underestimate or to question. In the past, powerful systems cost so high that could be only afforded by the big hotels, but with today's technological advancements, we follow how the hotel management systems have rapidly developed with the technology and how the sophisticated systems for hotels of all types and sizes have changed. An important feature of the hotel is that many of the daily business problems have to be solved in a fairly short period of time. For this reason, most of the problems focused on the service must be solved fast and professionally.
A director with a fast pace of working needs to coordinate different departments from food service to room service and the front desk. Many functional organizational designs used at many hotels increase the efficiency within each department of the hotel but remains weak to enable the coordination among the departments. Inspecting the daily operations can take all the time of a general manager. A skilled administrator is also responsible for the profitability of the hotel the same time. An empty room is a loss of income. Capital investment and investment return are the issues to be considered as carefully as possible. Service and exchange rate strategies must be compatible with variable outer factors.
Hotels are technological entities. Today's guests expect to find Internet access, entertainment systems and a variety of high-level services. Lobbies might feature self check-in and touch-screen kiosks. On-site restaurants feature reservation systems and touch-screen POS (point of sale) terminals and of course there are the in-room and office telephone systems, front-desk and office computers, credit card terminals, reservation software, accounting programs, hotel management systems, hotel web site, online reservatin module and mobile reservation applications. For maximum efficiency, many of these systems need to communicate with one another. Central reservation systems should automatically align online reservations with telephone bookings and walk-ins, and they must be integrated with accounting programs phone, credit card, POS, key-card and entertainment systems. The hotels with branches in more than one place are managed in a more coordinated way.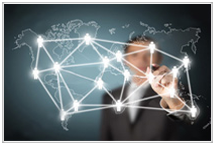 Oteller teknolojik varlıklardır. Günümüz misafirleri İnternet erişimi, eğlence sistemleri ve üst düzeyde çeşitli hizmetler bulmayı umuyorlar. Lobiler bireysel giriş ve dokunmatik ekranlı büfeler özelliğine sahip olabilir. Otel içi restoranlarda rezervasyon sistemleri ve dokunmatik ekran POS (satış noktası) terminalleri özelliği bulunmaktadır, tabii ki, oda içi ve ofis telefon sistemleri, ön büro ve ofis bilgisayarları, kredi kartı terminalleri, rezervasyon yazılımı, otel yönetim sistemleri, muhasebe programları, otel Web sitesi, online rezervasyon modülü ve mobil rezervasyon uygulamaları. Maksimum verimlilik için, bu sistemlerin birçoğunun birbirleriyle iletişim kurması gerekir. Merkezi rezervasyon sistemleri otomatik olarak online rezervasyonları, telefonla yapılan rezervasyonları ve kapıdan gelen müşterileri sıraya koymalıdır ve muhasebe programları telefon, kredi kartı, POS, ve eğlence sistemleri ile entegre olmalıdır. Birden fazla yerde şubesi bulunan oteller daha koordineli bir şekilde yönetilir.
The implementation of all this technology is expensive. A good hotel management system that covers a major chunk of a hotel's operations and interfaces with the property's other systems can cost thousands of dollars to install, license, maintain and train staff to use it. Besides, dealing with hardware and software increases the quite realistic concerns in terms of security. What happens if network or server fails? Credit card information and guest profiles contain highly sensitive data and the protection of this information carries vital importance.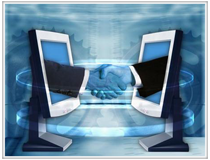 The mid-sized hospitality industry has similar challenges that a five-star property has, only the scale is smaller. As a smaller size hotel, inn, or resort, you too need a business and technology solution that can take care of managing critical business operations, more specifically, the front desk, online bookings, multiple points of sales, housekeeping, marketing and advertising, and integration with travel agents among others. Additionally, there is the added constraint of manpower, infrastructure, and the cost of such a platform. Now you can not only address these challenges but also boost your bottom line by using the HotelSilverlight web-based management packet.



Minimum information technology expertise
Low pricing
Quick return on investment
Negligible installation costs
Zero investment on Training
Use of technology
Minimum information technology expertise :
Menu buttons and main features upfront, designed to optimize the workflow of the hotel staff
Best of the breed graphical user interface (GUI) that extends reach to global room distributions and sales
Visual view of booking status and occupancy at all times
Direct updates on graphical display without the need to type too much or use a number of menu items
User-defined transaction details to allow better control and customization
Low pricing:
HotelSilverlight is extremely economical. You can select one section of our various pricing plans to buy;
Pay low monthly subscription price that includes not just setting up the system but also a round-the-year support, Pay nothing unless you get reservations, Pay an affordable one-time fee and then never pay for using the system again
For more information visit the Pricing section now or click here.
Quick return on investment :
With HotelSilverlight, your investment is very low and the benefits that you accrue are much larger. This ensures that the quick return on investment equation is tilted in your favor from the time you install the system. Within months of installing the system, you will start reaping good business returns as a result of Increased transparency of pricing and accounting information across all properties, Immediate savings from reduced operational and manpower costs
Visual view of booking status and occupancy at all times Minimization of losses from unnecessary transaction errors Up-to-the-minute status availability on all media resulting in better price realizations Better control over sales and marketing initiatives with ready information on your fingertips

Negligible installation costs:
The basic installation requirement for HotelSilverlight is a simple computer with an Internet connection. There are no hidden costs or infrastructure requirements. Needs standard Windows or Linux desktop computers with basic Internet connectivity Requires nothing to install or maintain, Has no limit on the number of users or terminals to support
Zero investment on Training :
HotelSilverlight is so simple to use that you will dramatically save on your current training expenses. Also, no investment is required on training, as the implementation is via the telephone or the web.
It is very easy to learn how to use HotelSilverlight on your own. We have various guiding videos each for almost a minute, starting from front desk. You can watch these videos on our website. What's more, live support ready right now, is ready to help the hotel staff in the middle of any transaction. It will help you in real time, and will guide you on that subject to be able to do your work. There are 10 videos for the user to start using the program instantly. You can immediately start to use the program with this video. There are 67 videos for front desk and 70 videos for admin panel in order to use the program with the most subtle details. They are designed with subject headings in a short, concise way that will not bore the viewer.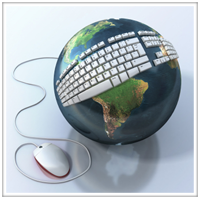 Use of technology
Built by experienced Ncs Net professionals producing software for different sectors since 1990, HotelSilverlight is the perfect technology solution whether you are a countryside inn, boutique hotel, bed and breakfast, resort, or a hotel. HotelSilverlight runs on a browser. All of its features are integrated into a single web-based system eliminating the need for and the cost of implementing additional hardware or software. HotelSilverlight is superior to other hotel management systems offerings with its unique features – at high as well as low levels – that present immense technology advantage.
System requirements :
HotelSilverlight is a hosted solution. It does not require special hardware or software.
The basic system requirements are :
& Operating System:Supports Windows operating systems,
& Computer: 1 Gb + RAM., monitor with minimum resolution of 1024x768, keyboard, and mouse
& Software: No additional software required,
& Browser: Works on all popular browsers such as Internet explorer, firefox, google chrome etc.
& Internet: ADSL, cable internet, recommended minimum connection speed - 56 kbps
Integrated :
HotelSilverlight is an integrated solution built to automate all your mission-critical operations. It seamlessly integrates Reservation, Front Desk, Housekeeping, Spa, Restaurants, and other Point-of-Sale (POS) terminals across multiple geographical points and even your website on a unified platform.
Accessibility :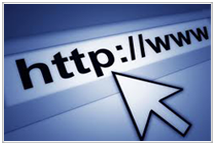 HotelSilverlight offers easy remote accessibility from anywhere in the world. Whether you want to view reports or manage your operations, just log on to the system from any basic Internet connection and get going! Give your staff instructions, check reservation status, assign new tasks, or generate reports. It is possible to use HotelSilverlight program with the tablet computers without requiring any costs, thanks to the internet connection, you are be able to do all this while on the go. It brings uncountable benefits especially for your housekeeping management.
Centralized :
HotelSilverlight offers a single point of data entry, which is updated instantly. This means that if, for example, you enter data at Istanbul branch; it will be visible at the London or New York branches almost instantly. In effect, it will be visible to anyone with authorized access to the system from anywhere in the world.
Secure :
HotelSilverlight gives you not just ease of use and simple management but also peace of mind, as all your concerns about data security are laid to rest. HotelSilverlight stores all your business critical data on a mirror server with regular backups. This ensures complete data safety
Scalable :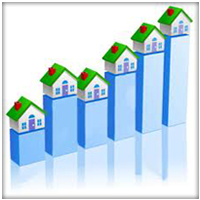 HotelSilverlight is extremely flexible when it comes to scalability. It supports multiple properties on its centralized, unified platform. If your business grows, you can easily add more hotels or resorts to your existing set of HotelSilverlight properties. If you wish, you can easily reduce the number of properties you want on the HotelSilverlight system. All this happens in a few clicks and without any hidden costs.
In the hospitality industry, hotel management systems are designed to ensure hoteliers to sleep better at night. This invaluable technology was originally developed to manage bookings, guest charges, check-ins and check-outs, room inventory and availability, and rates, all on a single platform accessed via a hotel's computer system.
Today, it is a standard to integrate the hotel management systems with front and back office, accounting, food and beverage, recreational area and package activities, housekeeping, channel management and global distribution System , customer relations management and revenue management system - either integrated modules on a single database or interface with other connected systems - HotelSilverlight hotel management systems provide a platform where hotel staff of all departments can reach, update and follow up all necessary information related to affluence and daily functions of the hotel. Even its easy access amongst more than one of the hotel units provides with great advantages to the organizations.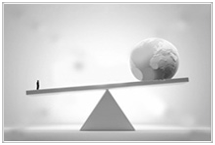 As property management systems have become integral to the hotel environment, both functionality and design have improved dramatically. Now they are becoming more user-friendly and intuitive. Even considering high rotation of employees, new staff are quickly and easily brought up to speed, thanks to logical system navigation and streamlined user interfaces. HotelSilverlight Hotel Management System now offer easy to use programs which reservation clerks can enter and change bookings, check guests in and out, assign rooms, access guest folios and more. The changes in the program ratios make the packages and price management more flexible.
Guests' Folios are more comprehensive than ever before with HotelSilverlight.hotel management system On-property guest activities, from golf and spa to in-room technological requirements/usage (Internet, en-tertainment systems, etc.), are automatically recorded on guest profiles, providing invaluable prospects for "customizing" each guest's stay and meeting their needs more closely. While an international resort with multiple properties spread throughout the world needs significantly more extensive functionality from their PMS than a charming five-room bed and breakfast, efficiency is essential to both properties. To maximize the effectiveness of usage, a hotel management system must be scalable to fit property size and amenities. A "light" version of the system covering room reservation software and a web booking engine may meet all the needs of a small bed and breakfast hotel. The international resort, however, will need a hotel management system that manages not only room reservations and various packages, but also on-property dining, spa, golf and casino operations, GDS relationships, partnerships with airlines, customer relations management and yield management, front- and back-end accounting and all across multiple locations.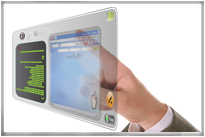 Organizations with more than one property had to install a separate version of the PMS at each site. While each property is running on an independent database, information is not easily shared between locations. Obviously, this is not very conducive to determining availability between properties, cross-selling or analyzing bookings, revenue and trends across locations. HotelSilverlight have adapted to the needs of multi-property businesses by providing centralized management on one database, smoothing out procedures across the group.