Hotel Program Online Demo, HotelSilverlight
HotelSilverlight is a cloud-based hotel management system designed to meet the entire front and back-office needs. To live this experience and to get more information, fill in the demo application form now and meet with the programming technology of the future by using the program free for 15 days.
Online demo Submissions without Hotel Name and contact information will not be accepted.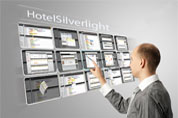 Fill in the Demo application form and press Send key.
Activation code, hotel code, user name and password will be sent to your E-mail address. (If you have not received any E-mails, make sure to check your junk mail or contact with us)
You must activate your account by clicking on the activation link sent to be able to enter the program.
Microsoft Silverlight add-in is needed for the program to run
If Silverlight application is not installed the on your computer click to download now.
Use with Mozilla Firefox, Opera, Internet Explorer browser.
Note: No payments will be asked from you for 15 days trial period.