Housekeeping Videos, Hotel Program HotelSilverlight
It combines the hotel front desk service and housekeeping personnel smoothly and simplifies the works.
Housekeeping module helps you organize rooms quickly and enables you to give task to housekeeping team and monitor them smoothly.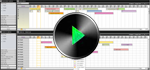 01-The use of housekeeping service
Housekeeping service module organizes in the shape of an easy to grasp table clearly showing the rooms in your system, room service status of each room, occupancy status and the staff appointed for that room.
Housekeeping service staff can easily be directed to the rooms and the appointed tasks with specific instructions in case of necessity.
Vacant or occupied status of rooms are automatically updated and managed during the night audit in accordance with policies determined for your system.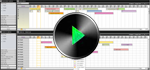 02-How to change the housekeeping status of a room?
All room housekeeping service tasks and status can be updated easily with simple "Click - Change" that is applied in the general layout of HotelSilverlight.